This year, rather than me choosing an Easter Egg for the Smalls each, I let them choose their own and the results were somewhat surprising!
Marks & Spencer Easter Eggs
The deal was the Smalls could choose any Easter egg from the Marks & Spencer gorgeous range of no less than 35 different eggs – can you imagine their excitement!
You'd have thought that they all would have gone for the largest, most chocolatey, fanciest, sweet-filled egg they could find, but I was mistaken, turns out they are more discerning than I give them credit for!
The Big Girls Easter Egg Choices
The Twin Big Girls (age ten) did choose a good sized chocolate egg each. Kate, fairly predictably, went for the really very cute, 'Laid Back Lamb'; a beautifully designed, hand decorated, milk chocolate hollow egg with white chocolate patterns.
I think left to my own devises I probably would have picked this one for her too – so no big surprises there! It is very cute! She was only going to eat 'just one leg' and polished off all four, so I can safely report the chocolate is extremely good too!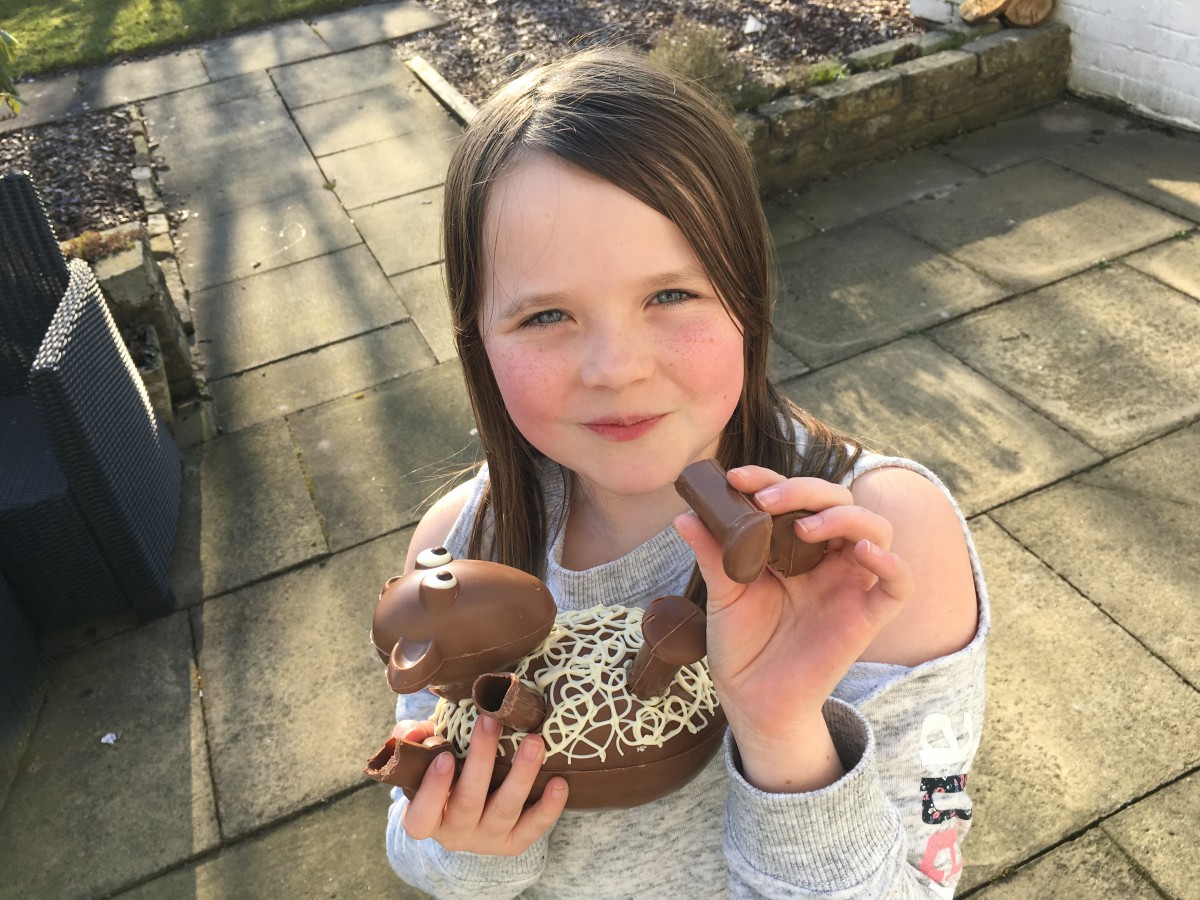 Her twin sister, Beth, was slightly less predictable, I thought she may have gone for the 'globe trotting Percy' (£8.99 – 315g) – a hollow white chocolate egg with raspberry and strawberry, but I was mistaken! The Percy comes with a bag of Percy Pig  sweets (which Beth's a huge fan of) and a pair of cut-out glasses to take that all important #selfie with, I was pretty sure with those credential it would be a dead cert for her!
The other Easter egg I thought would be on her radar was the 'burrowing bunny' – as she's a sucker for a small animal and I thought the cuteness factor might just have swung it for her, but no, not that one either!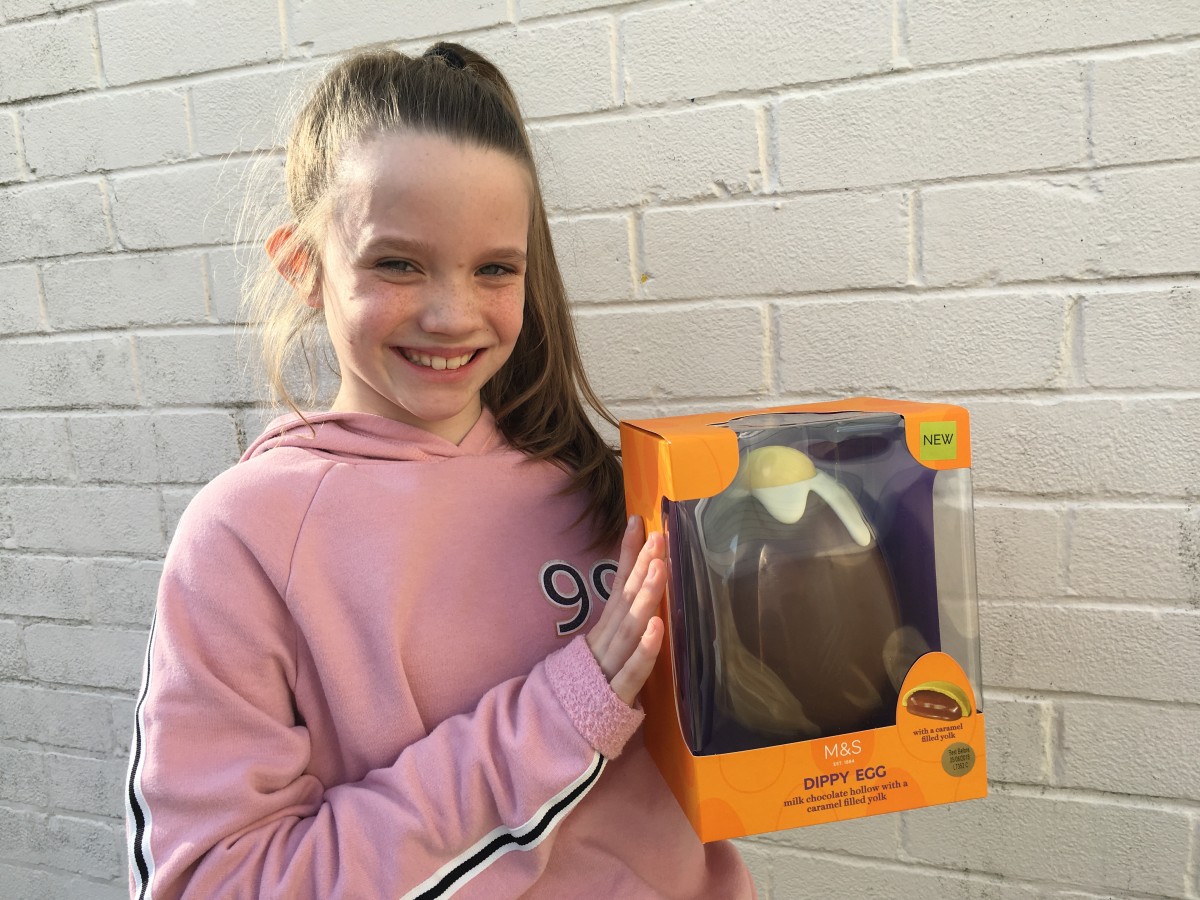 What she actually chose was the 'Dippy Egg' – which is a milk chocolate hollow egg with a caramel filled yolk. She was swayed by the quirky, fun edged design and was drawn in by the addition of caramel in the 'yolk' which just tipped the balance for her. In self control only seen in Smalls she's saving the yolk till last as 'that's the best bit' – the egg is pretty much demolished already though, it was very well received!
The Small Boy's Easter Egg Choice
But it was the Small Boy who surprised me most of all! He could have gone anywhere with his choice from the vastly appealing Kids' Easter range. The 'Poppy' character from Trolls (£7 – 210g) was a contender. The 'Thomas the Tank Engine' shaped design was also nearly a maybe, and I had all my money on him choosing 'Spiketail the Dinosaur' a large-sized hollow milk chocolate dinosaur. But I was wrong!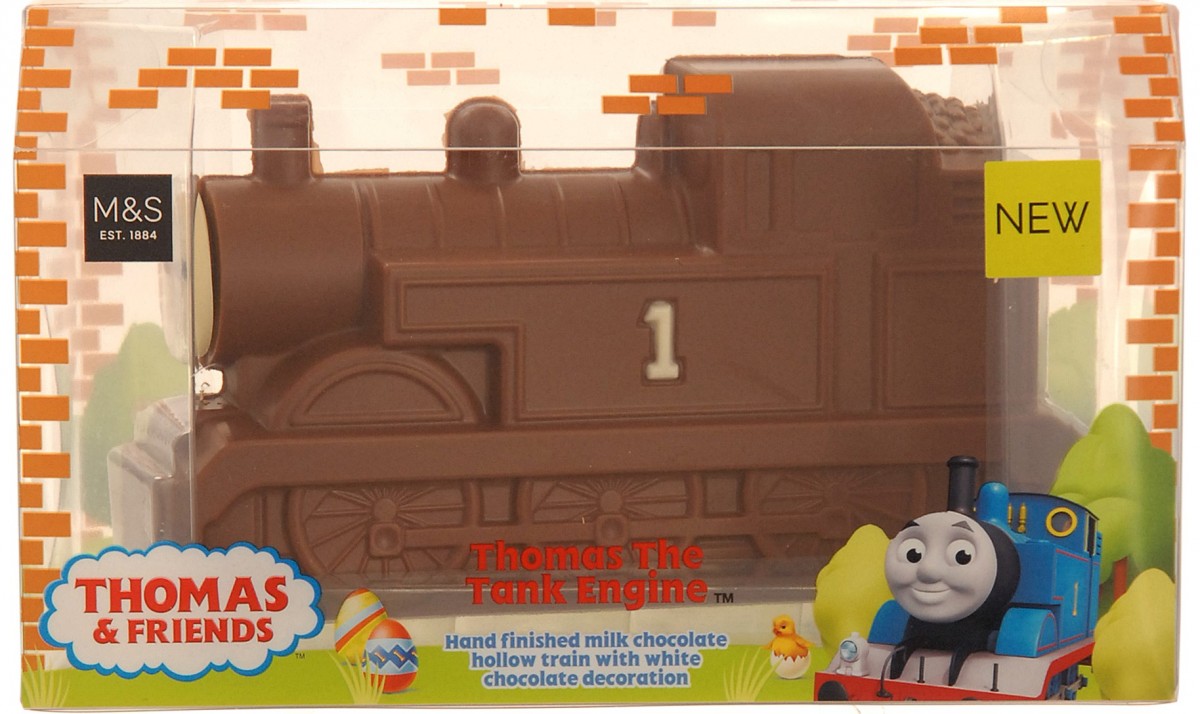 A Surprise Choice
He was completely adamant that what he would really like was the 'Spiketail Egg Cup' – a green ceramic egg cup, in the shape of a dinosaur, with a small milk chocolate egg. I did explain to him a number of times that his chocolate egg would be very small (especially in comparison to his sisters) but there was no talking him down.
He'd made his mind up and he wanted that dinosaur egg cup with not much regard for the size of the chocolate egg. To be fair he does love a boiled egg, so I was secretly over the moon that he picked the gift that keeps on giving, tinged with a little apprehension for what it would mean upon collection of all the eggs!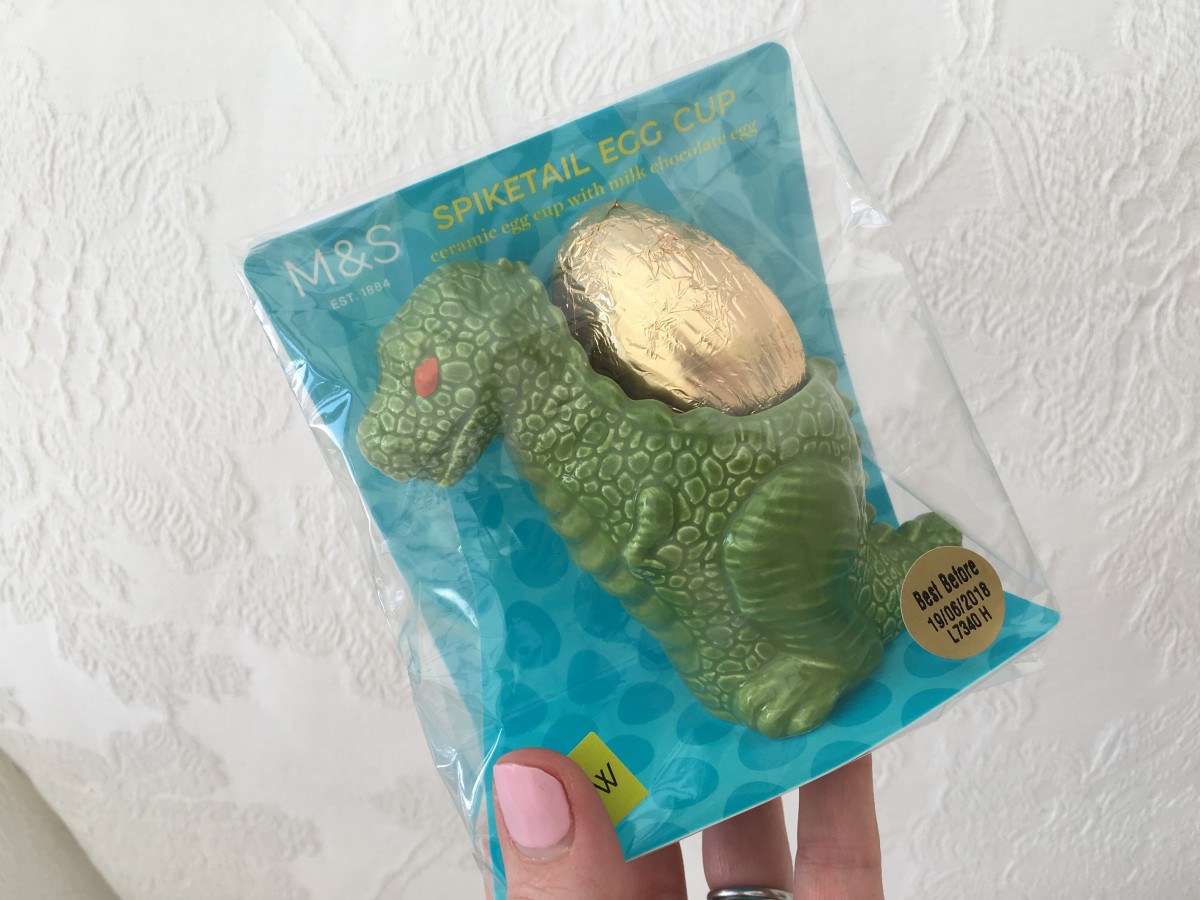 So having prepared myself for upset from the Small Boy upon collection day, expecting him to decide all too late that it was the huge egg he preferred after all, there was none!
In fact he was totally made up with his choice and hugged his little dinosaur egg cup with much fervour, thrilled with his choice and the dino design! Bless him. He was especially thrilled as it was green! The things that please the Smalls!
Perfect Easter Eggs for Mamas
Not wanting to miss out myself as a Mama the choice was quite an easy one for me! Perhaps I'm more predictable than I like to believe! I decided on the irresistible 'Hand Painted Belgian Milk chocolate egg, with mini marc de Champagne shimmer truffles' probably because it is simply exquisite.
It's hand sprayed in red and gold lustre and it's octagonal, very art deco, and, you know, it had me at Champagne! My only problem at the moment is that it just looks far too pretty to actually eat, but those truffles won't be hanging around for long!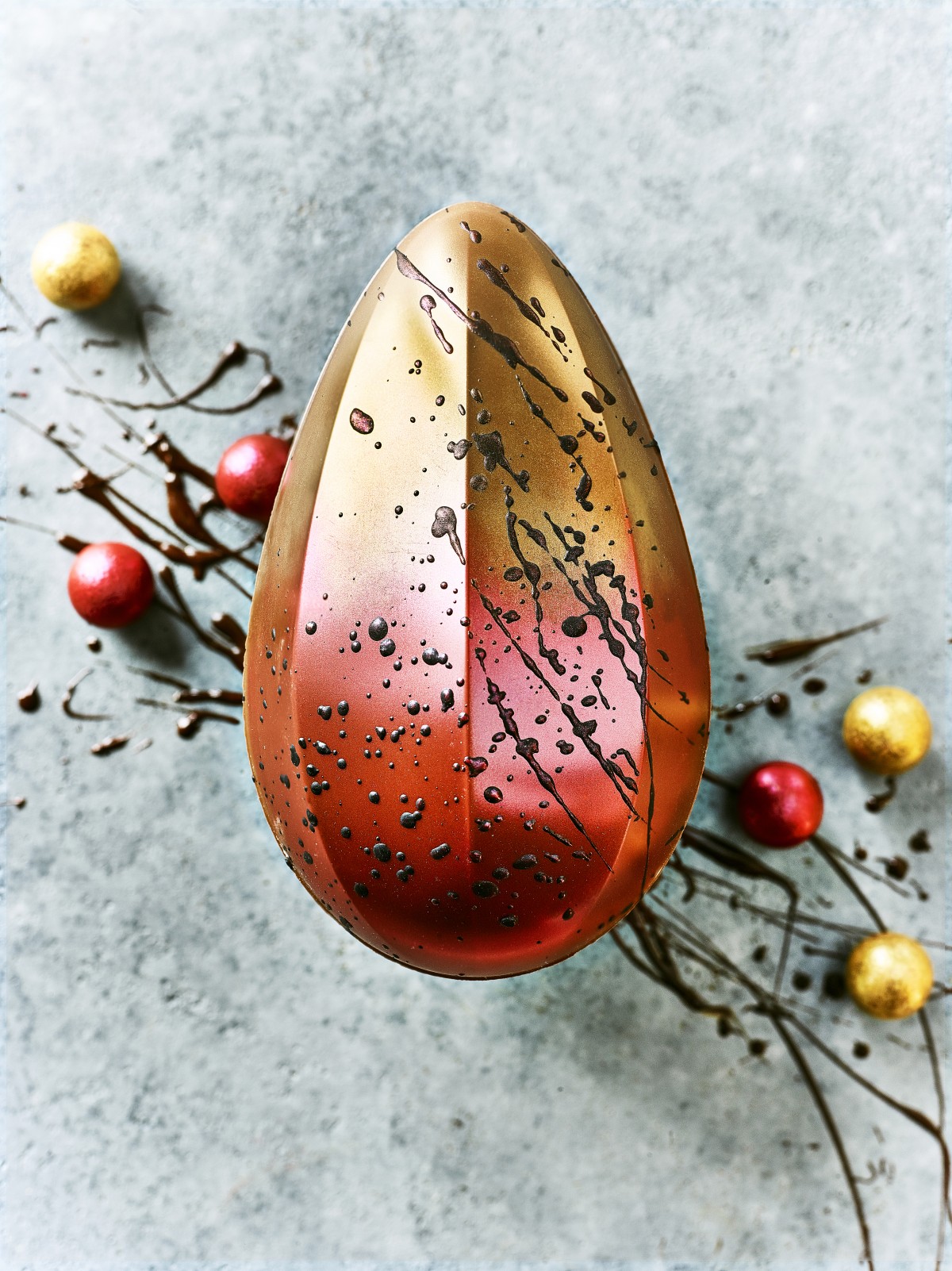 So if you're wondering which eggs to get your Smalls this weekend (or if you're treating yourself), M&S have a huge range and it might just surprise you which one they would go for given the choice!
How Marks & Spencer Kids' Easter Eggs are made
Marks & Spencer has been working with Kinnerton since 1990. Based in Norfolk, its 15-strong team have been working closely with the M&S chocolate expert, Katy Patino, all year to create over 35 different chocolate eggs and characters for Easter. The Norfolk-based company's exclusive chocolate recipe contains a minimum of 30% cocoa solids and during the Easter period the site will use over 630 tonnes of its delicious chocolate to create products for M&S.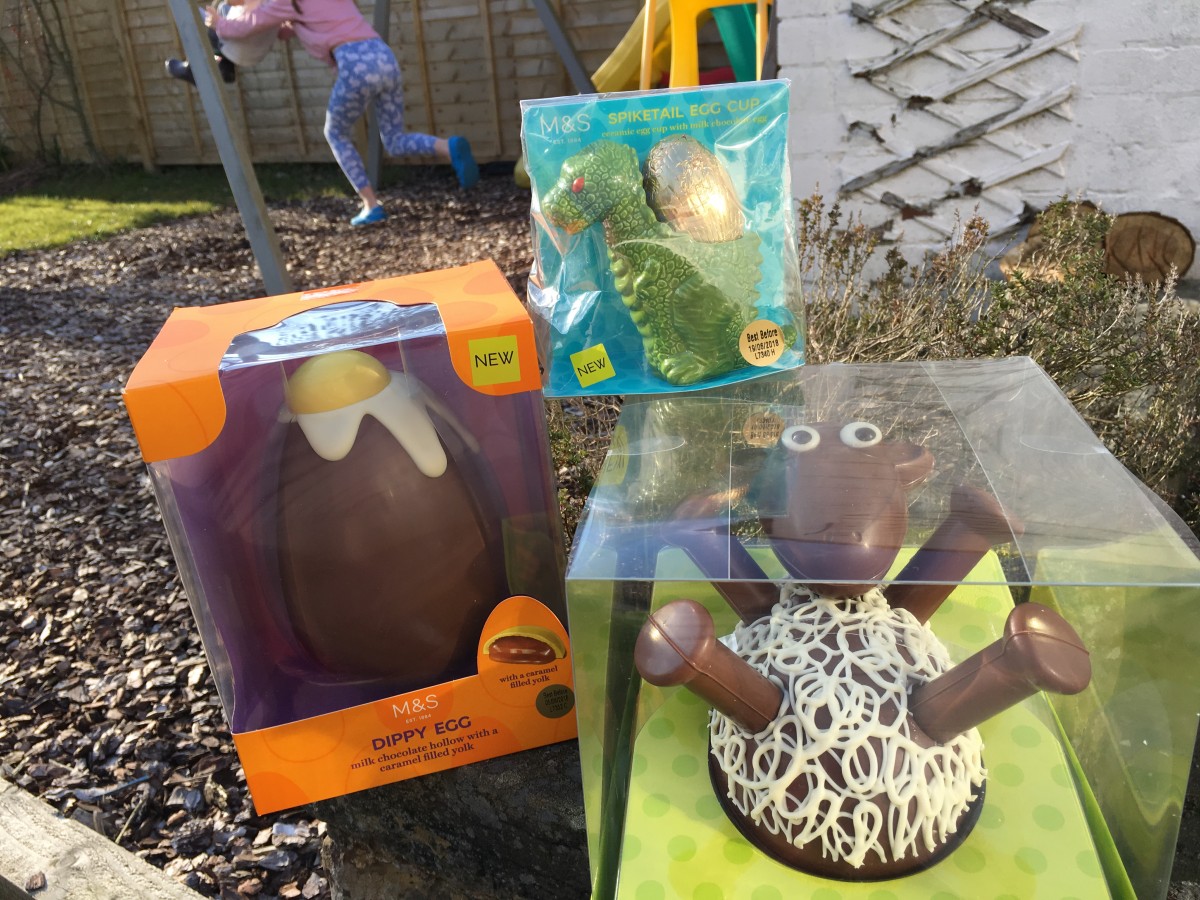 Which one do you think your Smalls would have chosen?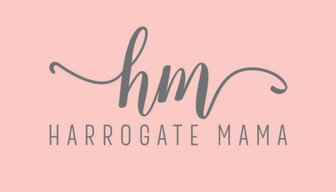 Just so you know; Marks & Spencer gifted the Easter eggs to us all and the views are my own, as always.