We had the most amazing holiday this summer. We were away for three whole weeks which is such a luxury and something we'd never done before. I absolutely adored spending all that time with the four most important people in my life without distraction or interruption. We all really had time to come together as a family and re-group which is so lacking in today's busy life.
Votre Vacances
Our first week was with the brilliant Votre Vacances, a gorgeous holiday business based right here in Harrogate but with their holidays over in the Vendee in France. They have eight pitches for their chalets at a beautiful small and authentic four-star campsite set against the backdrop of a chateau complete with its own lake! How amazing does that sound!
Sarah's Story
Sarah who owns and operates the company has such a lovely story to share too. After working for Eurocamp for five years over summer holidays she decided she wanted to set up her own business. In her early twenties, sadly her grandparents passed away and generously left her some inheritance which she chose to put towards creating this amazing new business.
Votre Vacances has been up and running for two years which means all the chalets are brand new and in amazing condition. The campsite is in a fabulous location on the west coast of France, just South of Nantes and North of La Rochelle.
Perfect Campsite in the Vendee
It's a fifteen minute car ride to some of the most gorgeous beaches the Vendee has to offer too! And because Sarah is so hands on at the site, living there from May to September, she gives a lovely personal touch that you don't get with other holiday brands.
Small and Authentic
We had such a lovely holiday with Votre Vacances, it was a really gorgeous place. The site was small enough for the Big Girls to do some exploring on their own but big enough to give us plenty of adventures we're going to remember for a long time!
Swimming Pool Craziness
There are two swimming pools at the campsite, one right in front of the Chateau and the other right behind it – making for great sun-bed views!
The second pool is also under cover which means you can use it whatever the weather and there are two all important water-slides for the Small people to while away hours on! The Big Girls couldn't get enough of them!
Chateau Perfection
The bar and restaurant areas are all set in the outbuildings of the chateau which makes it look picture postcard pretty and remind you that you could be nowhere other than France.
Free Children's play area, trampoline and bouncy castles
The Smalls loved the trampoline and two bouncy castles, that to their amazement, they could go on any time of the day or evening, for FREE! The campsite also has a mini play-area, tennis courts, a football pitch and fully equipped games room.
Le Grand Defi
One of the things we loved most about the campsite was the area down by the Lake, which hosts an area called Le Grand Defi, which is the most impressive series of high ropes course I have ever seen.
The courses are really outstanding, with over a dozen zip wires that go over a lake, yes zip wires over a lake, it's something to behold and even more incredible to experience, as we found out!
Le Grand Defi is laid out with courses suitable for all ages; from two to five year olds, to family, to serious sporting professional level.
Family Tree Top Fun
The Small Boy loved it and he got quite adept at clipping and un-clipping himself. The Big Girls loved the independence it gave them and the self satisfaction of being able to achieve the climbing all by themselves.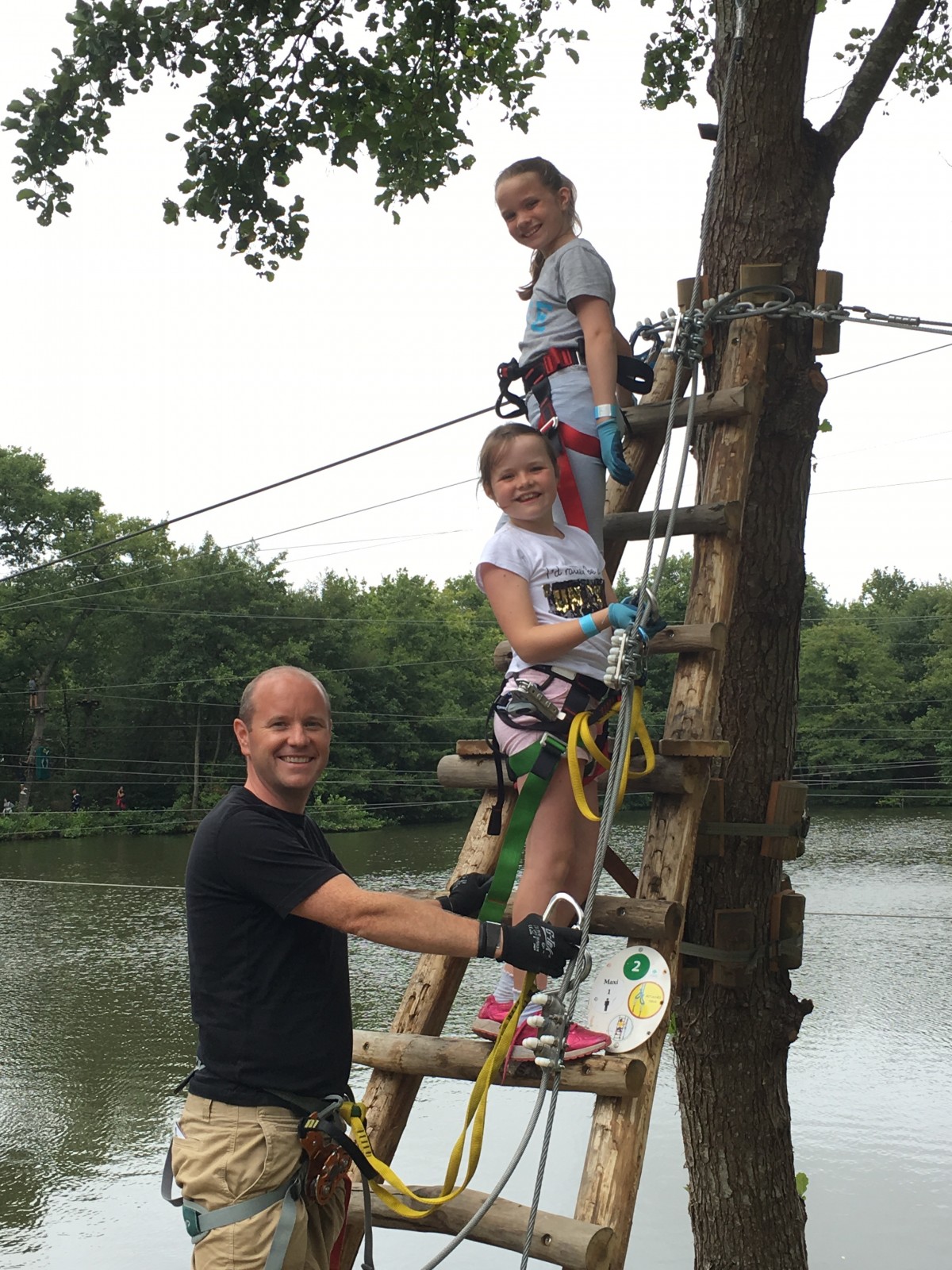 We loved the fact we could join in with them and be part of an experience all together, rather than just watching them do it on their own which is so often the case with their activities.
One of the Big Girls and I had an amazing time on one of the higher courses, she loved challenging herself and we had some zip wire rides I will never forget. They were so high over the lake and the trees that they actually ended not on the ground but in other trees! It was crazy brilliant!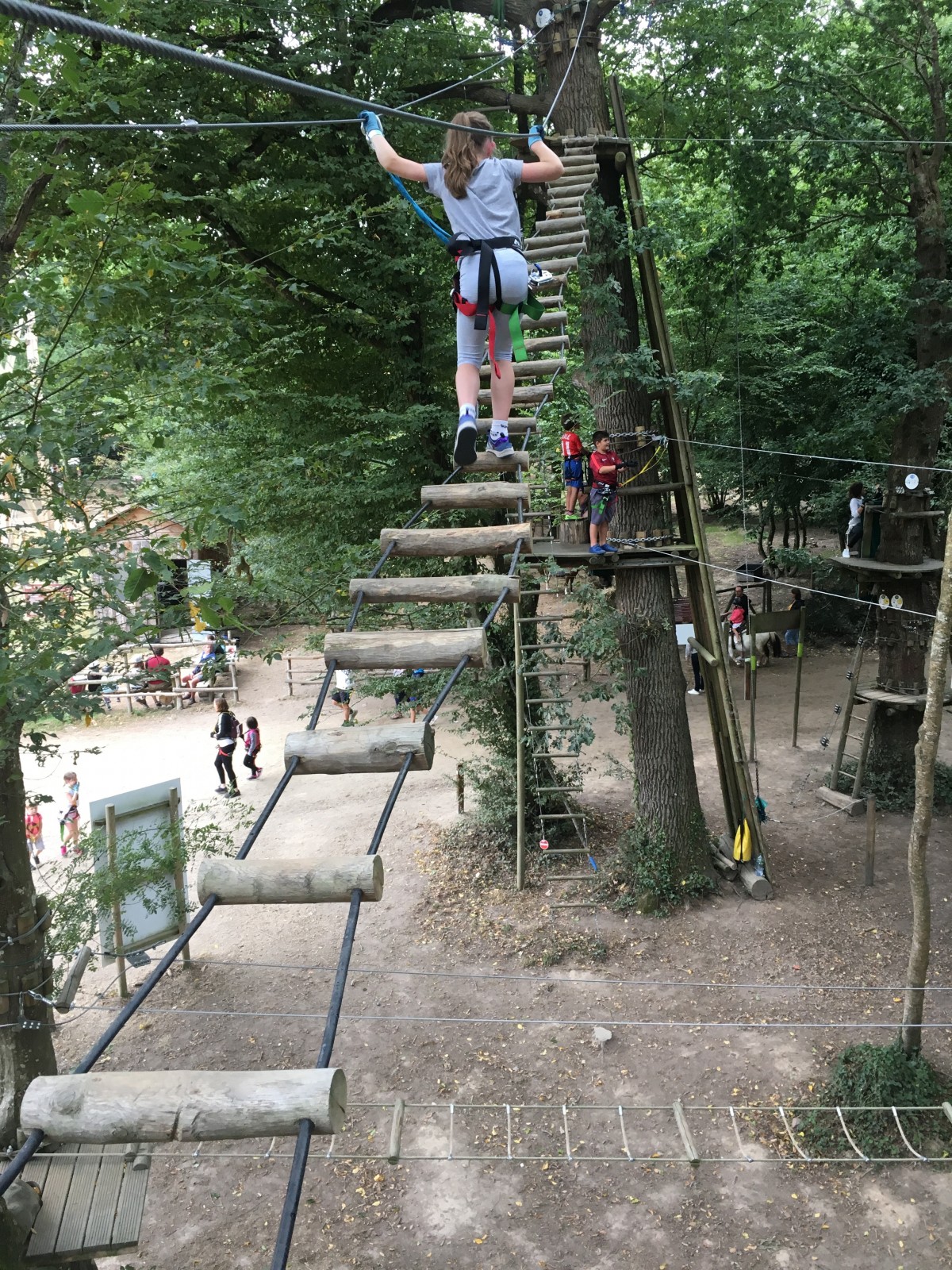 Pony Trecking
There was also pony trecking and paint balling available at Le Grand Defi too – the Small Boy adored his pony, he loves animals so to ride a pony was the ultimate experience for him, bless him!
Chilled Campsite Life
Along with living campsite-life; hanging by the pool, playing boules and table tennis and chilling playing cards back at the holiday chalet, we also had a few day trips out to explore the gorgeous Vendee has to offer.
Amazing Beaches
Firstly the beaches are incredible. They're long with beautifully soft golden sand and a mixture of shallow shelves for paddling Smalls depending on the tides.
Les Sables d'Olonne
We headed out to both Les Sables d'Olonne and St Gilles Croix de Vie. Both of which were only about a 20 minute drive away. There was plenty of parking but it was very busy. We visited Les Sables d'Olonne one early evening and, as recommended by Sarah, we parked across the bay from the main beach and caught the water bus across the crossing to the main beach area.
The Smalls loved the five minute boat ride from side to side which added to the adventure. There was an evening market on, which the Big Girls loved, buying trinkets to take home and we'll all remember the amazing hot, sugary, ChiChi's (Churros) for a long time to come!
The beach looked beautiful and we ventured to the shore for a little late night paddling! I had some of the best Mussles I've ever tasted back across the bay before picking up the car for the ride home! A meal to remember!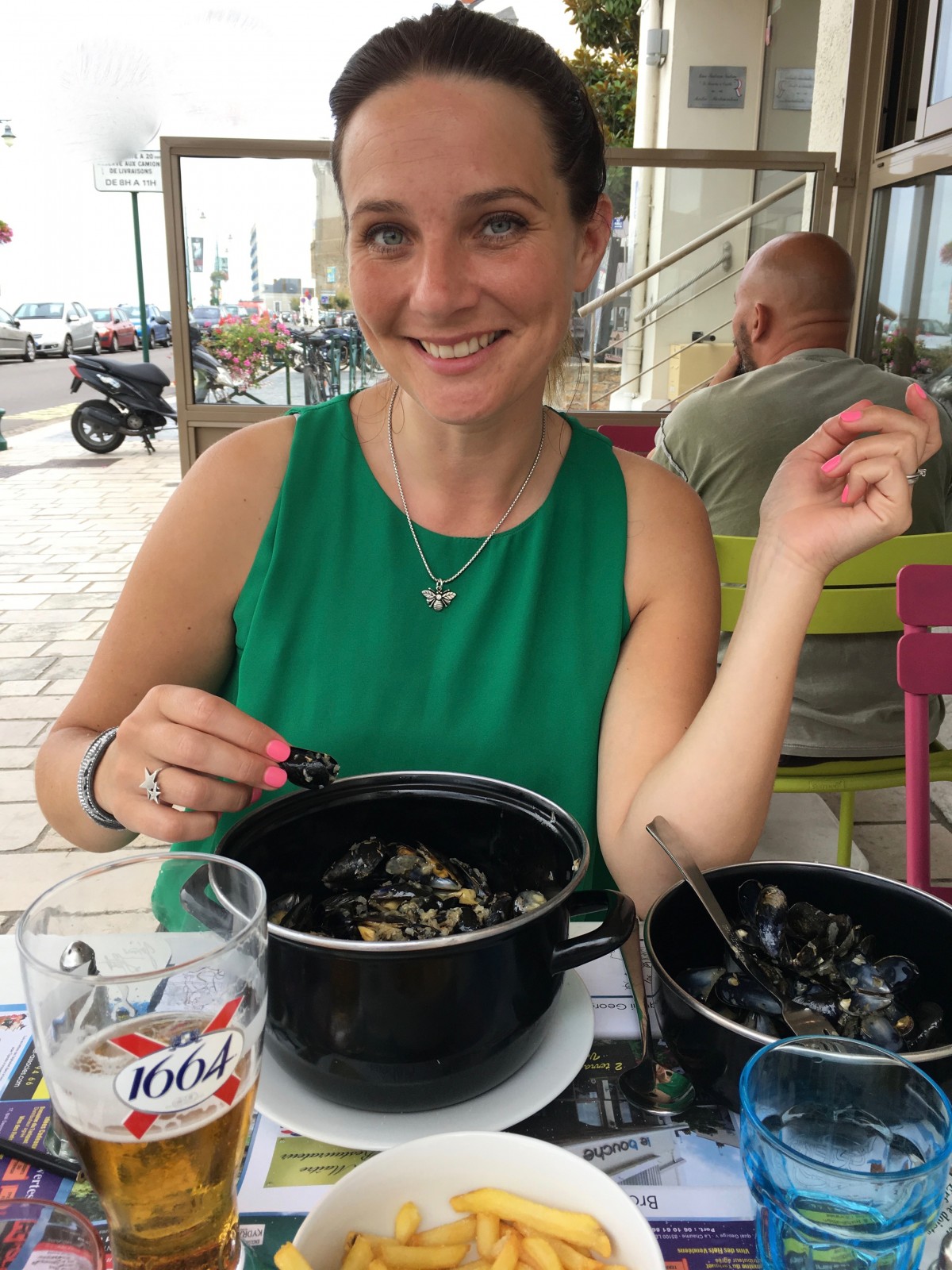 St Gilles Croix de Vie
St Gilles was a simple stunning beach, it was a gorgeously sunny day, so packed a picnic, bought a parasol and set up camp for the day!
The Smalls were as happy as could be in and out of the breaking waves, building sandcastles and were so content all day I read numerous chapters of my book – amazing!
Les Chateau des Adventures
The other brilliant day out we had was at Les Chateau des Adventures which was perfect for the slightly overcast day we chose to go.
There are trails and treasure hunts to follow, with some quite testing clues. The adventure in the Chateau saw the Smalls running around with an iPad (provided by the Chateau) which interactively helped them find out about the history of the grand house while solving their mystery!
They loved it! There was plenty of outdoor fun too with both a Pirate trail and Dinosaur one.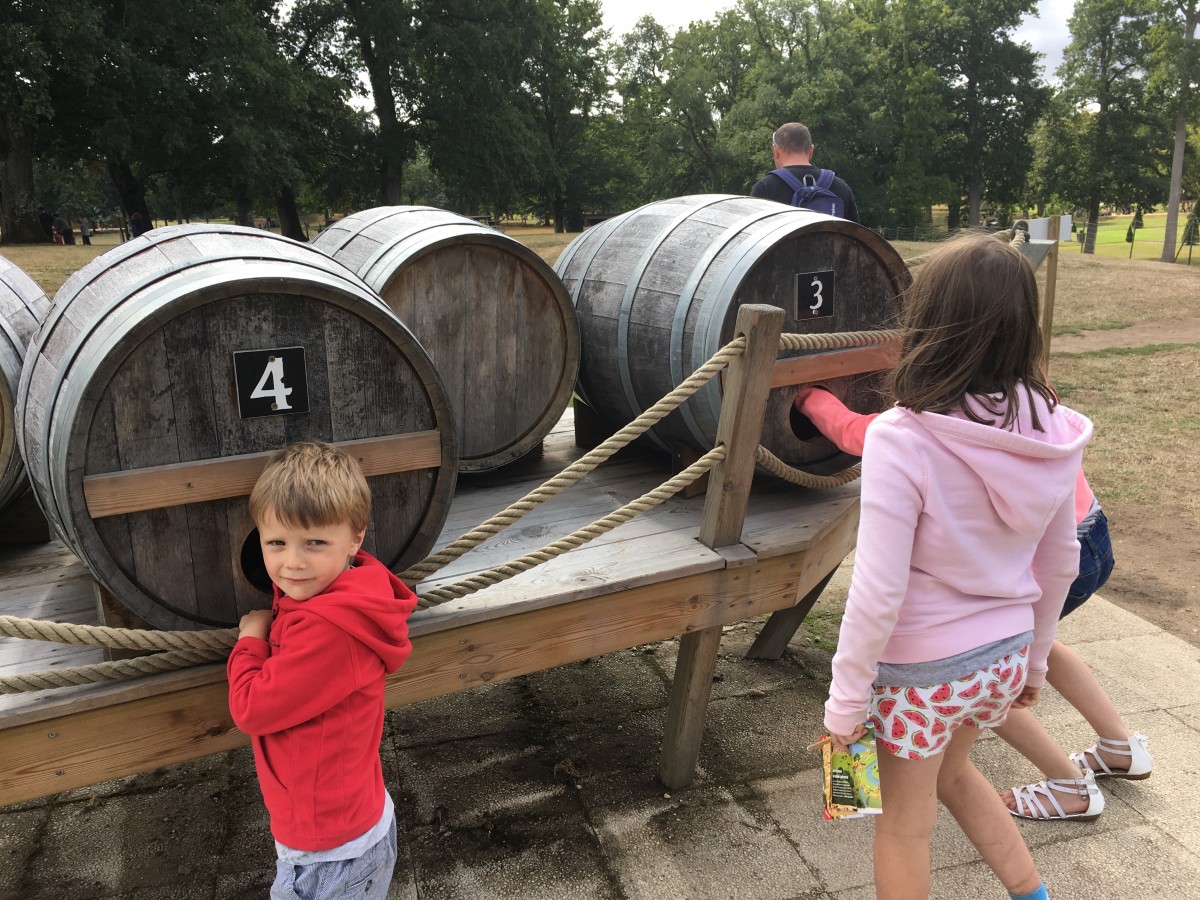 Campsite Fun
The campsite also offers a whole host of other delights including fishing in the lake, a brilliant take-a-way pizza bar for the nights you don't fancy cooking or eating out, bike hire if you fancy more active exploring and indoor children play area for younger Smalls.
There's also a well run English speaking kids club every day with so many activities to choose from including Crepe parties, hair braiding, crafts and games.
Grown Up Entertainment
There was also evening entertainment with brilliant live bands, wine tasting or quiz nights for the grown ups too every night!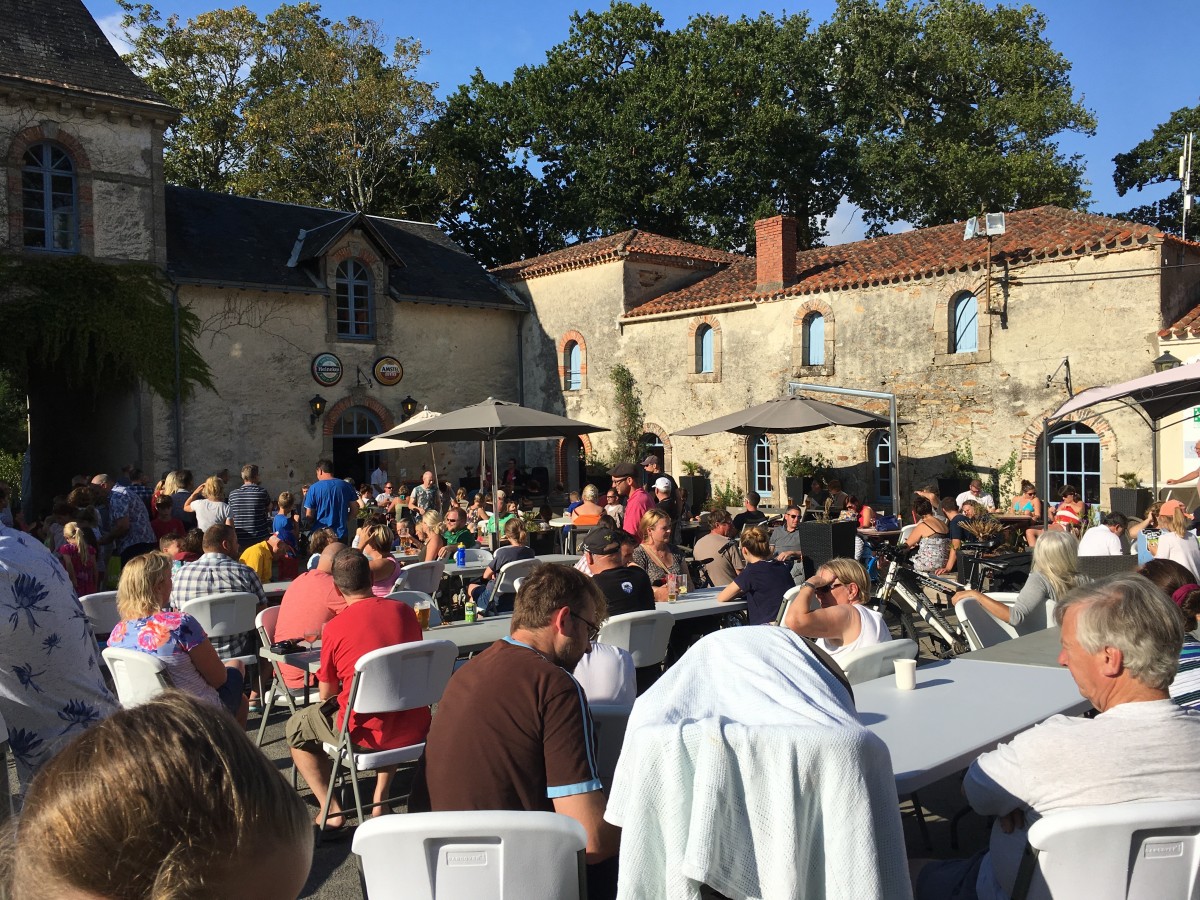 Village Life
The bakery in the village of Saint Julien des Landes, which is a two minute walk from the campsite, was perfect. The croissants and pain were a daily breakfast staple and the village itself is quintessentially French complete with a gorgeous church, mini-supermarket (with really friendly staff) and the obligatory hairdressers!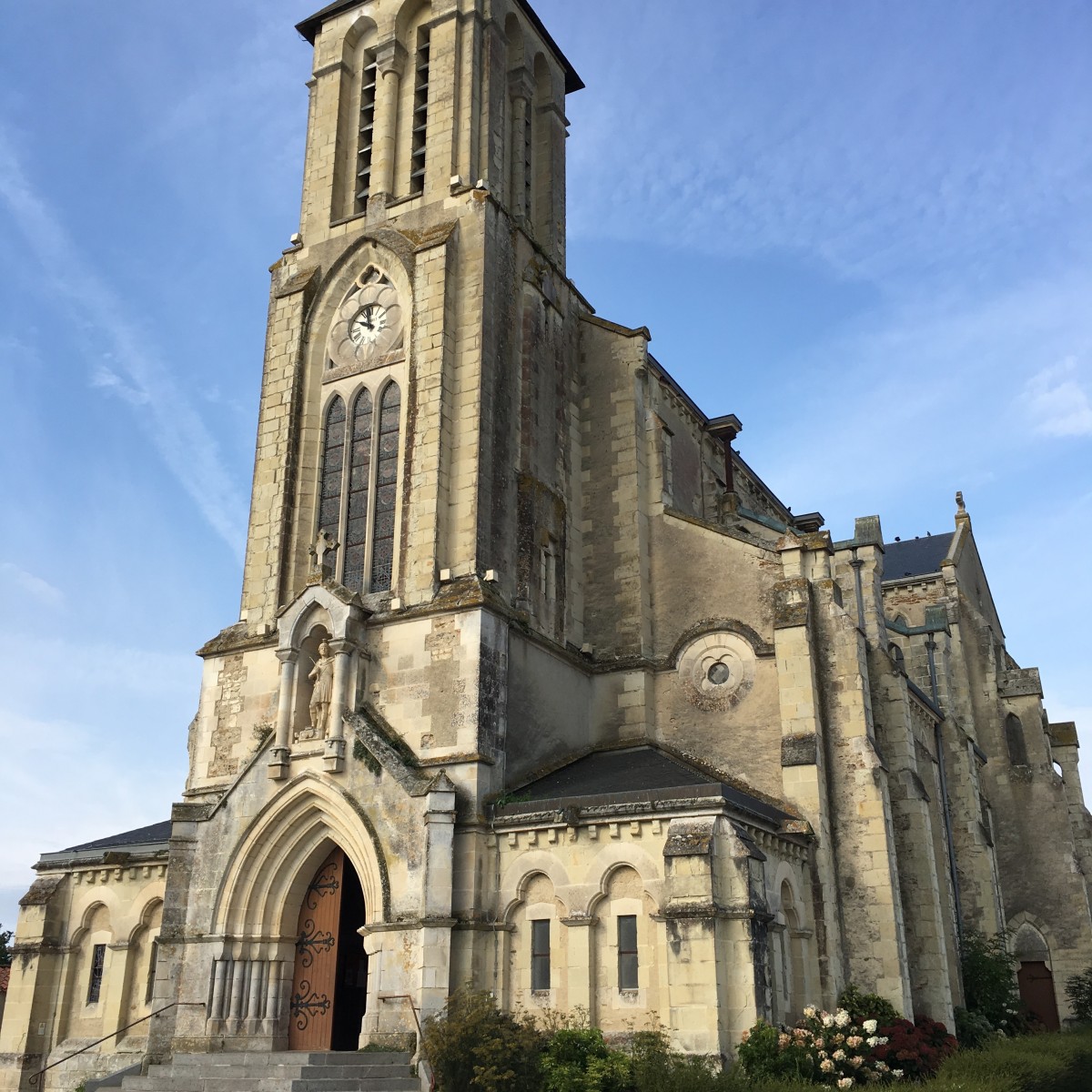 The Loveliest of Holidays
We simply had the loveliest holiday, which was made all the better by the brilliant Sarah, who made us feel welcome and relaxed.
The chalets are beautifully new, we had a three bed chalet, which was perfect for the five of us. It has its own decking area outside too set in a really nice sized pitch.
All the equipment has been really well looked after too and all the little things were already there like tea-towels, soap, washing up liquid, olive oil and balsamic vinegar and our beds were made too – which was such a lovely touch!
Sarah has such a personal touch and all the new crockery, linen and supplies are all included in the really reasonable prices too!
We loved the fact that Votre Vacances is a Harrogate business. Which means you can even support local companies all the way from the comfort of an amazing holiday!
Le Tour de France 2018
Votre Vacances has some great holiday deals available for booking next year. You can check out their website for more details. Rather excitingly Le Tour de France starts in the Vendee next summer from 7th July – which means Votre Vacances is a perfect spot to stay if you want to catch the cycling action too!
Summer 2018 Offers
Votre Vacances has an Early Booking Offer on, which is running until the 31st January 2018 – with prices starting at £450 for seven nights in a 2 bed, and £550 in a 3 bed, and with the code: VIP10 you'll get an extra 10% off!
Win a Holiday!
Sarah's grandparents used to regularly volunteer at the Harrogate Homeless Project which is the chosen charity for the Harrogate Tribe Christmas event, taking place on Friday 24th November.
Sarah has very generously offered a week's holiday with Votre Vacances as a raffle prize on the night of the event to support the charity. Details of how to get tickets to the event will be on the blog and social media soon, so keep your eyes peeled and you could win this fabulous holiday for your family!
The raffle prize will be for a 3 bed chalet, anytime from May half term, until 2nd September, for seven nights, with the option of adding on more nights at a discounted price of £80 per extra night.
We had a gorgeous holiday and would recommend Votre Vacances as a lovely family place to stay and enjoy.
Disclaimer: Sarah kindly invited us to review staying with Votre Vacances and is donating the raffle prize.
SaveSave