I'm really thrilled that Sally kindly invited me to guest blog on Harrogate Mumbler last week. I thought I'd share the post here too, incase you missed it. I hope these ideas will be especially handy with the Easter holidays continuing into next week! They always come up trumps in our household.
1.) Amaze at Viaducts
We only recently discovered that you can get right down to the Crimple Valley Viaduct on a short walk from behind the back of Hornbeam Park. It's amazing to get so close to the Viaduct that you can even touch it. The grown-ups love to marvel at its historic 1848 engineering as much as the kids love to watch the trains pass over the top of it. If you're  really lucky a friendly engine driver will even give you a wave or a 'beep-boop', which makes the kids' day! It's a manageable walk with something amazing to see at the end of it.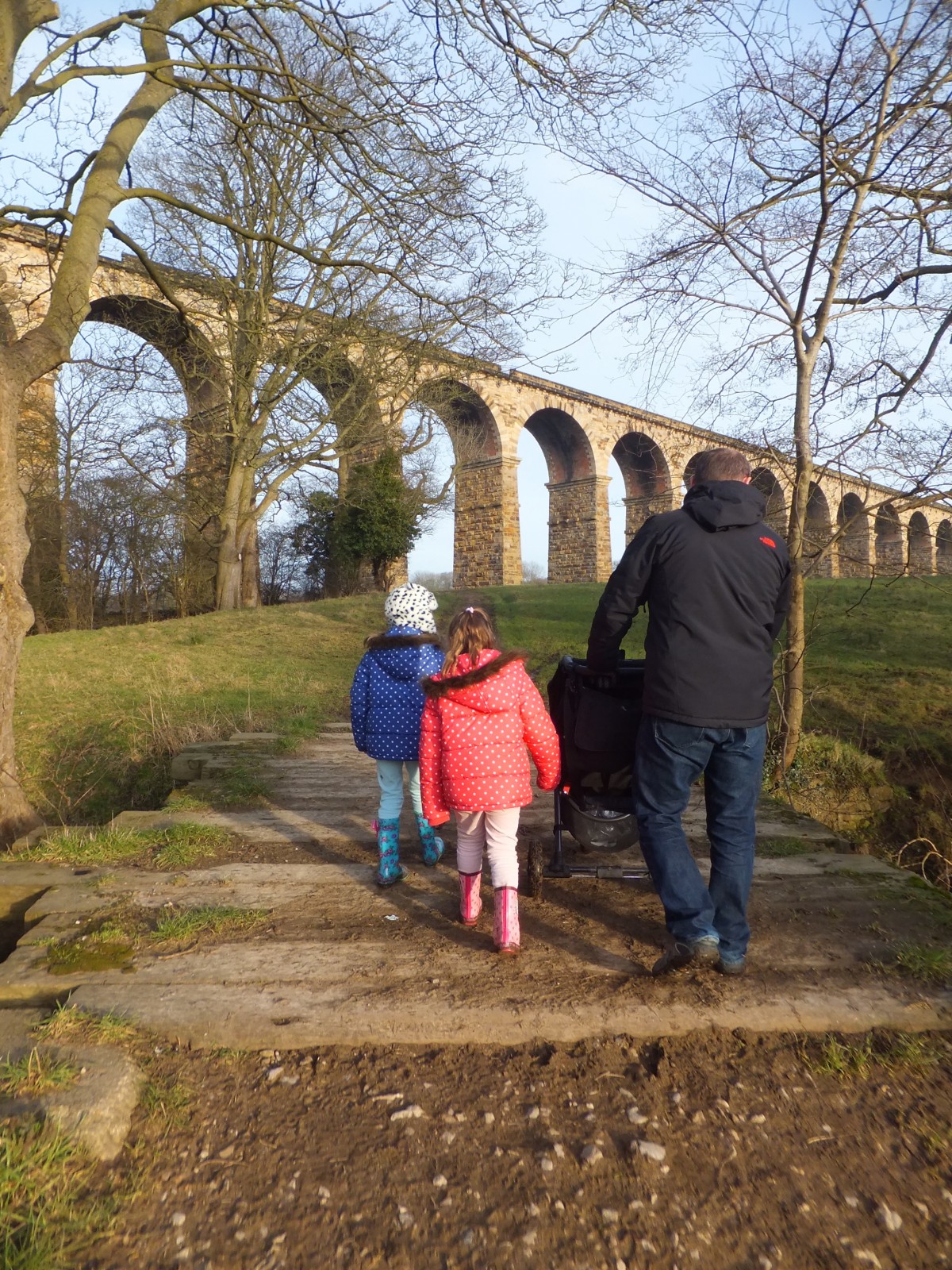 2.) Ice creams and people watching
This one is a win-win for the parents and the kids. When we do this route we start up at the Cold Bath Road end of Valley Gardens and walk right through the park into town. We wander past the end of the Crown roundabout to Farrah's Food Hall and buy an ice cream each (whatever the weather). Then we stroll up to Montpellier Gardens and park up on a bench. Everyone happily, quietly enjoys their ice cream treat and we get to people watch in relative peace and quiet. Plus they're all nicely restored for their walk back through the park.
3.) Pizza Picnic on the stray
If it's a dry warmer evening we sometimes grab a take-out Pizza, a bottle of pop, the picnic blanket and head down to any part of the Stray. The kids love eating outside and I love not having to cook or tidy up afterwards. The best bit is they can run off some steam, make up some games and have a good old run around. It saves all the faff of packing a proper picnic whilst still keeping all the picnic fun.
4.) Cycle/Walk/Scooter to Fodder
The cycle path that was built between Hornbeam Park and the Yorkshire Show Ground for the Tour de France is perfect for some off-road cycling or scootering if you don't want to go too far with the small people. We start at Hornbeam Park and cycle or scooter down past Crimple Beck all the way back up to through the Showgrounds and end up at Fodder. Sometimes we stop for a quick re-fuel with a toasted tea-cake or a hot chocolate, sometimes we just buy a take-out treat to see us back home again.
5.) Adventures with a view at Almscliffe Crag
Rather embarrassingly for someone who has grown-up in Harrogate I have to admit to not having been to Almscliffe Crag before having children. It's one of the most amazing panoramic views of the local countryside around. Added to that there's a spot of easy climbing to be had there too. Perfect for kids of all shapes and sizes. You can find a full review of Almscliffe Crag on my other more detailed post.
6.) Wander through the Pine Woods to Harlow Carr
The walk from Harlow Moor Road to Harlow Carr is such a lovely one, for a start it's mainly flat, and the views are great. The path opens up at one point to a large grassed area, perfect for a quick stop off for a game of tig. Sometimes we just walk so far and head back, sometimes we make it to Bettys where the kids can choose a biscuit and we can have a take out cuppa for the return walk.
I hope you've found these ideas enjoyable and useful. Some you might be well versed in, some might be new to you and some might just remind you that you don't always have to spend a fortune to keep everyone happy in the holidays. Enjoy the leftover Easter chocolate (!) and I hope the school holidays are kind to you all ?.